Product Description
Single Girder Gantry Crane with Electric Hoist is middle and small Lifting Equipment which runs at rails. It is mainly composed of gantry( girder, leg, lower cross beam,etc), hoisting mechanism, travelling mechanism and electric control part. With the electric hoist as hoisting mechanism, it runs along the lower flange of the I-steel of the girder.
MH Model Electric Hoist Girder Gantry Crane is used together with CD1 MD1 electric hoists.It is a track travelling small and medium-sized Crane.Its proper Lifting weight is 3 to 20tons. Proper span is 12 to 30 meters,its proper working temperature is-20℃ to 40℃.
This product is a regular crane widely used at open ground and warehouses to load,unload or Grab materials.It has two controlling methods: ground control and cabin room control.
This kind of single girder gantry crane usually for light duty articles, if for heavy duty material, double girder gantry crane is also available.
Features:
1.Simple and compact structure, steady performance.
2.Easy to install and high efficiency.
3.Overload, low voltage protective device.
4.Pendent control and remote control.
5.Easy maintenance.
Usage(Application):
light Duty Gantry Crane is widely used in varied industries, like material stocks area, cement plant, granite industry, engineering industry, construction industry, shipping yards, road sides, mines, steel plant, concrete girder yard, etc.
Sketch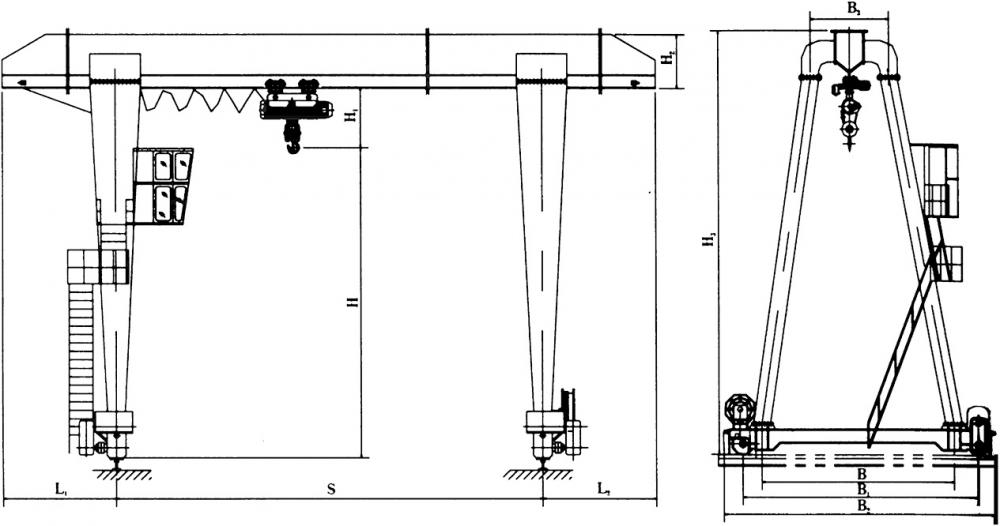 Parameter
Lifting Capacity

T

3

5

10

16

20

Operation method

Pendent line with push button/ cabin

speed

Lifting

m/min

8, 8/0.8

8, 8/0.8

7, 7/0.7

3.5

3.5

Cross travelling

20

20

20

20

20

Long travelling

ground

20

20

20

20

20

cabin

30, 40

30, 40

30, 40

30, 40

30, 40

Motor

Lifting travelling

Type/kw

ZD41-4/4.5

ZD141-4/7.5

ZDS10.8/4.5

ZD151-4/13

ZDS11.5/4.5

ZD151-4/13

ZD152-4/18

Cross travelling

ZDY12-4/0.4

ZDY121-4/0.8

ZDY21-4/0.8×2

ZDY21-4/0.8×2

YZD-4/0.8×4

Long travelling

ground

ZDY21-4/0.8×2

YZR132M1-6/2.2×2

YZR160M1-6/6.3×2

YZR160M1-6/6.3×2

YZR160M1-6/

6.3×2

ZDY21-4/1.5×2

YZR132M2-6/3.7×2

YZR160M2-6/8.5×2

YZR160M2-6/

8.5×2

cabin

ZDR22-4/1.5×2

YZR132M2-6/3.7×2

YZR160M1-6/6.3×2

YZR160M2-6/8.5×2

YZR160M2-6/

8.5×2

ZDR24-4/2.2×2

YZR160M1-6/5.5×2

YZR160L2-6/11×2

YZR160L2-6

/11×2

Electric hoist

Type

CD1/MD1

CD1/MD1

CD1/MD1

CD1

CD1

Lifting height

m

6,9

Working duty

A5

Power supply

380V 50HZ 3phase AC

Span

m

12,16,20,24,30
Detailed image

About us
Jiangxi Mide Industrial Co., Ltd. is a joint-stock company and our main business engaged in design, researching and development, manufacturing, sales of bridge gantry cranes, electric hoists, lifting machinery, mining machinery, light and small lifting equipment, hydraulic aerial cage vehicles, lifting accessories, steel structures, etc.
The company is located in the beautiful hero city - Nanchang. With its own supporting processing and production base and advanced machining equipment, we can independently complete all production processes of machining, milling, planing, grinding and etc. We own R&D design team, having complete quality assurance system and strict management system and international management mode, strong production capacity, advanced testing methods, to ensure zero defects in the factory. Making products have higher market competitiveness.
The products are widely used in machinery, metallurgy, mining, power, railway, aerospace, port, petroleum, steel, coal, chemical and other fields. Serving many large enterprises and national key projects at home and abroad, we are committed to creating an international company with high standards and high starting point.
Mide's mission is to think what the customers thinking, do what the customers urgently want.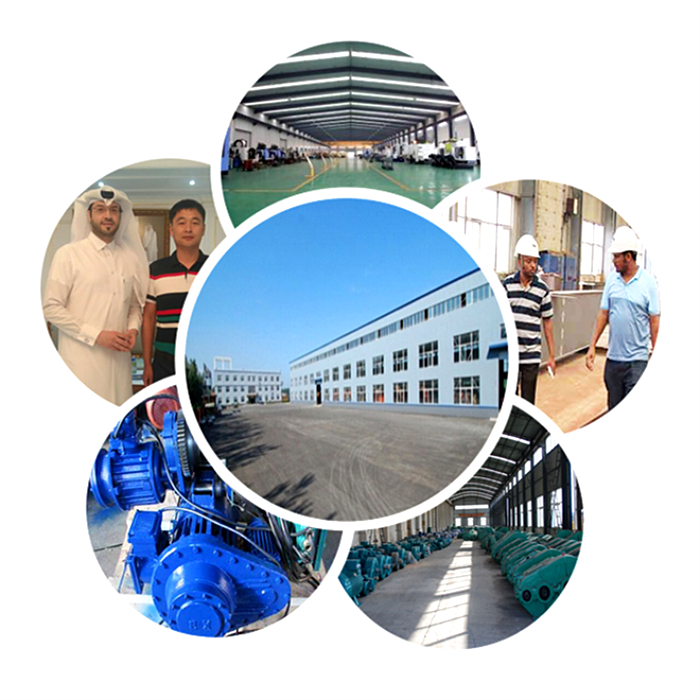 FAQ:
1. What`s the information should I provide when inquiry?
More details or drawings, more better.
A: Lift capacity
B: span
C: lift height
D: power source
Or other specials you give us will be more appreciated.
2. Can you provide the serious lifting tools?
Sure, we can provide any lift tools such as lift sling belt, lift clamp, grab, magnet or other specials as your requirement!
3. How can we install the crane?
Our senior engineer can be your side to do the installation guide service and training. Moreover, our best sales can visit your country.