Qtz125 (6015) 8ton Electric Building Construction Top Kit Tower Crane
2021-04-19
Product Name:
Qtz125(6015)8ton Building Construction
Tower Crane
Material:
Shangang Group Steel
Application:
Building, Construction
Power Source:
380V/50Hz/3phase or as Request
Mast Size:
1.833*1.833*2.5m
Max Achorage Height:
180m
Transport Package:
40hc, Naked and Disassembled Within Container
Specification:
Tower
Crane
Qtz125 (6015) 8ton Building Construction Top Kit Tower Crane
>>>Product Description: 
    The qtz125(6015) 8ton building construction top kit tower crane
features stable operation
and reliable management due to the adoption of various advanced technologies. It is configured
with diverse devices like the hydraulic self-propelling device, frequency converting slewing device
and a series of reliable safety devices like hoisting height limiter, slewing range limiter and multi-
functional limiter. It is thus easy for this heavy Lifting Equipment to control the hoisting capacity,
load moment and trolley traveling range more precisely.
    Additionally, multiple electric safety devices such as anemoscopes and obstacle lights effectively
prevent the breaking of trolley axles and wire ropes.
With the following condition, we believe Tavol will be your best choice:
1.
Tower Crane
steel directly purchased from BAOGANG and SHANGANG, high quality raw material;
2.
SCHNEIDER electrical components ensures reliable and safe mechanism of  TAVOL tower
crane;
3.
Cast steel brake wheel, hoisting mechanism is tested in multi-ways;
4.
Stable and powering slewing mechanism adopts winding motor and hydraulic transmission;
5.
Robot automatic welding system, automatic impeller blasting and spraying assembly line,
ensures TAVOL tower crane top technology;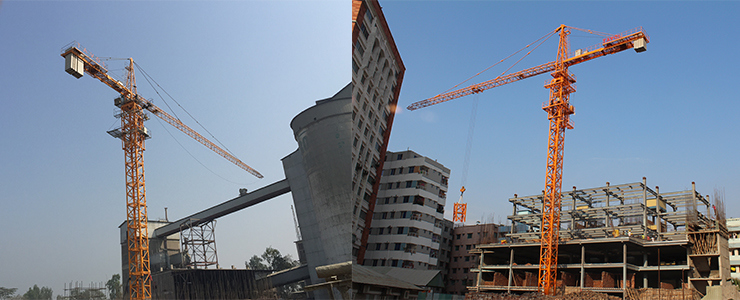 >>>Specification for QTZ125(6015) 8
ton Tower Crane
:
series

QTZ125

Standard Model

6015

Max. Lift Load

8t

Tip Load

1.5t

Free Standing Height

50m

Max. Anchorage Height

180m

Jib Length

60m

Mast size

1.8×

1.8

×2.5m

Lifting Speed

(a=2)100/50/10 m/min




(a=4)50/25/5 m/min

Lift motor

24/24/5.5kw

Wire rope diameter

13mm

Trolley speed

55/27.5/9.6 m/min

Trolley Motor

2.2/3.3kw

Slewing speed

0.62r/min

Slew Motor

3.7kw*2units

Jack climbing speed

0.4m/min

Jack climbing motor

7.5kw

Power

380V/50Hz/3P

Luxury Operate Cabin, Schneider Electric Parts
>>>Different Models of Tower Crane are Supplied: 
Model

Standard Model

Jib Length/m

Tip load /t

Max Load/t

QTZ31.5

4208

42

0.8

3

QTZ40

4808

48

0.8

4

QTZ50

5008

50

0.8

4

5010

50

1.0

4

QTZ63

5010

50

1.0

5

5013

50

1.0

6

5610

56

1.0

6

QTZ80

5610 topless

56

1.0

6

5513

55

1.3

6

6010

60

1.0

6

6010

60

1.0

8

QTZ125

6015

60

1.5

8 or 10

QTZ160

6516

65

1.6

10

QTZ250

7030

70

3

12 or 16

QTZ315

7040

70

4

16 or 18

QTZ400

7055

70

5.5

25

QTD3020

\

30

2

2.9

QTD4015

\

40

1.5

6

QTK20

\

25

0.8

2
>>>Main Parts for Tower Crane: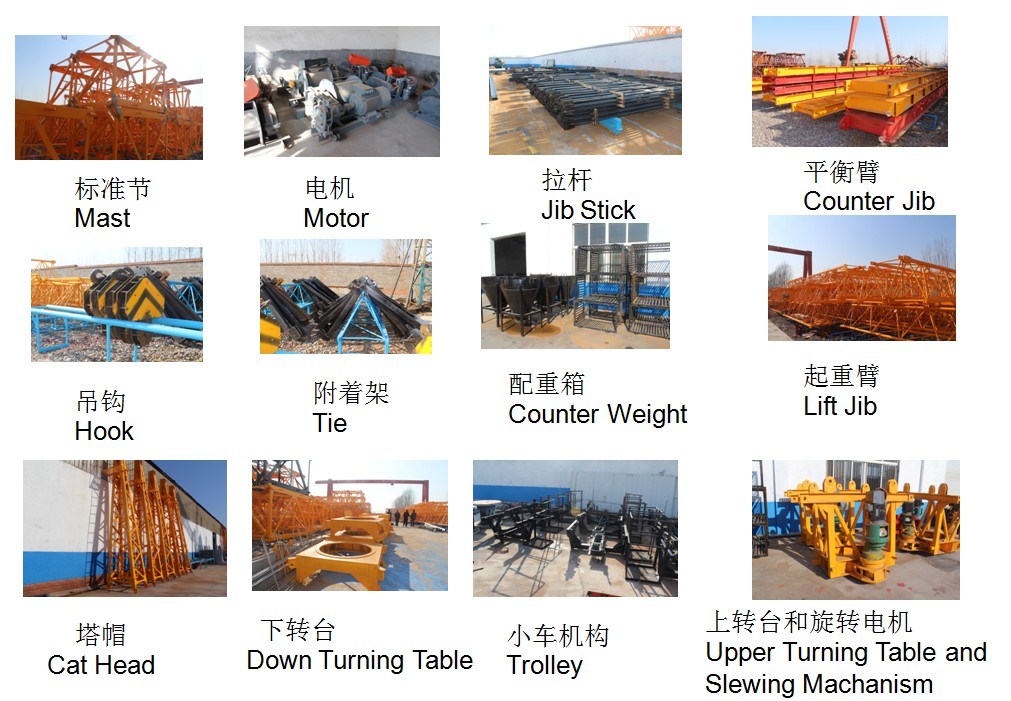 >>>Feature of QTZ125(6015) 8ton Tower Crane: 
1. Hoisting Mechanism
The tower crane uses a large-size winding drum and the motor with three kinds of speed or with
variable frequency system.
2. Slewing Mechanism
The continuously variable frequency speed regulation helps the balance crane to work with stable
starting and braking as well as fast and accurate positioning. Therefore, our tower crane becomes
the leading one in terms of performance and operability at home and abroad.
3. Luffing Mechanism
Adopting variable frequency speed regulation, the luffing mechanism works stably with little impact.
4. Control System
The PLC allows for automatic detection of electrical fault and issues corresponding sound and light
alarm. Critical components are all procured from international famous enterprises.
5. Safety Protection Device
Our tower crane is equipped with many advanced or ingenious components apart from regular
safety devices used in ordinary cranes for the purpose of enhancing its security and operating
convenience.
6. Structure
Tanks to the advanced design tools, such as electro-mechanical design, CAD design, optimization
design, and modular design, the tower crane proves to be a kind of optimum construction
equipment that shows not only superb strength, stiffness and fatigue resistance but also
outstanding comprehensive performance and reliability.
>>>Safety Features of the Tower Crane: 
| | | |
| --- | --- | --- |
| 1 | Torque limiter | it will warns when lifting weights reach to 90% of rated lifting torque. When reach to 110% of the rated lifting torque, it will limit rising upwards and trolley. |
| 2 | Weight limiter | Control the maximum lifting capacity, lifting weight reach to 40% of the rated capacity, limit high-speed lifting; lifting weight reach to 110% of the rated capacity, limit  the lifting up |
| 3 | Height limiter | Control the lowest and highest extreme position of lifting hook |
| 4 | Slewing limiter | Control the extreme turns number of turn left and right |
| 5 | Amplitude limiter | Control trolley limit position of inward and outward  |
| 6 | Overload protection | If the material is over the capacity, the crane will give a sharp warning for protection itself |
| 7 | Emergency brake | If the operation staff  encounter some emergency situation, we could start the emergency brake system to protection the related treasure |
| 8 | Control Method | Room control or remote control to avoid any injury to the operation staff |
| 9 | Main lifting motor | with thermal protection and currency protection |
>>>Packaging & Delivery of Tower Crane: 
Packaging Details: 40 HC containers; High quality Wodden cage for electrical parts Delivery
Delivery: 20-25 days after received the deposit in advance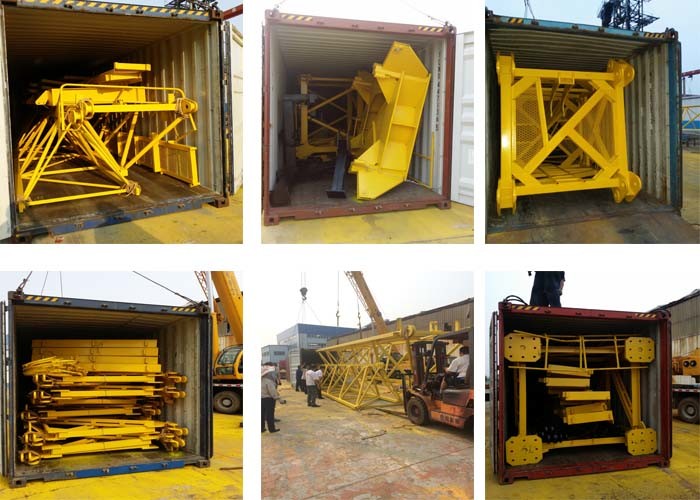 >>>Our Service: 
Tavol Cranes Group is the professional Tower Crane Manufacturer and Exporter in China.
We have
our own technical team and sales team, 
can do all special design according to y
our requirement.
We have our own factory, 
welcome to visit our factory at your time and l
earn about our factory and
products. 
24 hours online service and support, call or contact us by Skype, QQ, MSN etc. We are sure we
can give you best service. 
1- One year warranty for whole machines. 
2- Providing free quick-wear part. 
3- Low charge for continue maintenance when warranty is expired. 
4- Exclusive engineer support at any time. 
5- We can provide free training to end-users.  
>>>Successful Case of Tower Crane: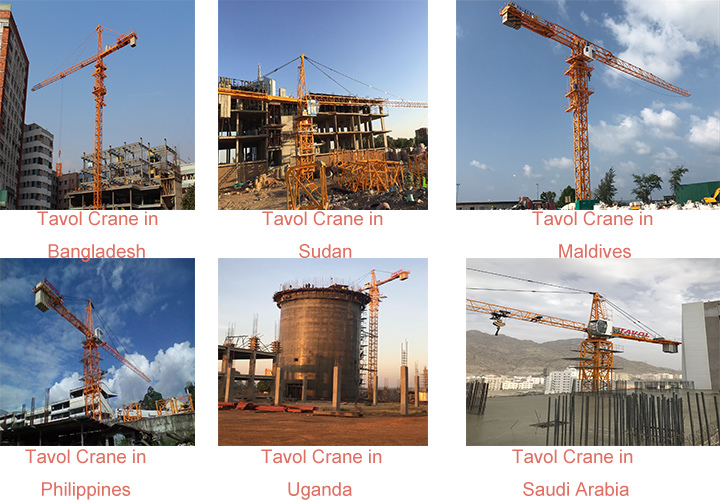 >>>Customer Visit: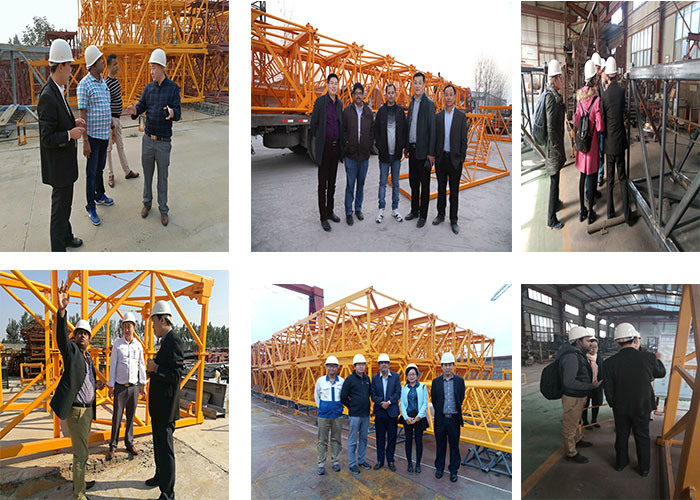 >>>FAQ:
Please supply more detail to us: 
1. Building height or tower crane working height. 
2. Working range or jib length
3. Max load capacity & tip load capacity. 
4. Other Special requirements
Then we will supply best offer to you.
Looking forward to have a nice cooperation with you!
If you show interest in our product, please do not hesitate to contact me! 


Name:Ellen Xiao
Mob:0086-15269864317

A luffing tower crane is a good choice for work sites where two or more cranes are working at the same time. This is because the slewing radius of a luffing crane is highly reduced in comparison to standard tower crane types. The luffing jib tower crane also has a higher lifting capacity because the weight is transferred from the crane`s jib much more effectively.
Luffing Crane
,
Luffing Jib Crane
,
Inner Climbing Tower Crane
,
Luffing Jib Tower Crane
,
Tower Crane 10t
Crane,Grab,Bridge Crane Co., Ltd. http://www.sytoplesstowercrane.com