Product Description
Eurocrane EDR clean room electric hoist is applicable to environment of cleanliness grade 1000, including wire rope hoist, Chain Hoist, belt-type hoist, and others of different forms and structures. The body of our electric hoist for clean room is made of stainless steel with completely sealed driving structure. The features and advantages of other components can be seen in the below description. Our clean room hoists are clean and reliable to ensure that your work plan can be carried out on schedule.
Lifting Capacity 50kg-32,000kg

Components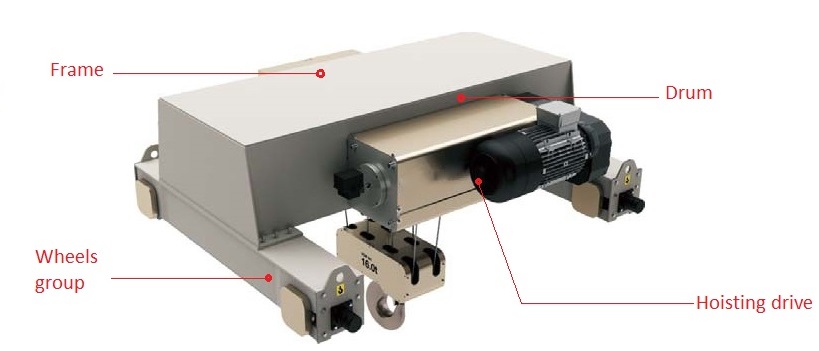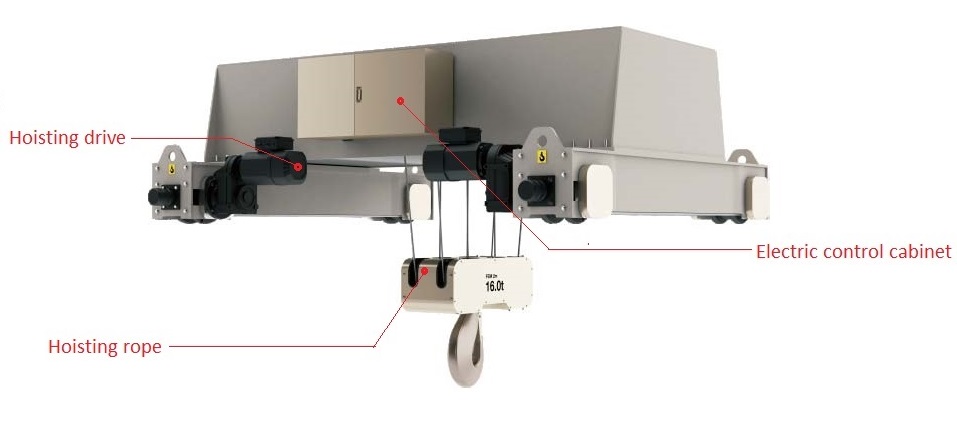 Features and Advantages
1、Frame
Fully sealed design, special surface treatment and special anti-static coating not only can effectively prevent it from producing pollution particles, but also can prevent adsorbing external pollution particles.
2、Drum
Stainless steel casing can effectively prevent metallic materials from polluting the environment caused by corrosion. The rope groove is deepened, which can make the hoisting rope orderly arrange in the rope groove without rope guide, to avoid causing pollution by friction of hoisting rope and rope guide.
3、Wheels group
Fully sealed design , stainless steel wheel, and other parts of high surface rust prevention can effectively prevent corrosion and pollution, self-lubricating of metallic materials; self-lubricating and full sealed bearing can avoid lubrication pollution.
4、Hoisting drive
Fully sealed and high sealed reducer is free from oil leakage and pollution; high protection grade motor without fan and double sealed brake can effectively prevent the motor from producing polluting particles.
5、Hoisting rope
High-strength fiber rope, with high strength and good flexibility, will not cause wearing on the rolls and pulleys.Without lubrication and pollution.
6、Electric control cabinet
Electrical control system is designed at IP65 protection grade and the metal parts are made of stainless steel materials. The surface of connecting pieces (bolts, nuts, etc.) is prepared by Dacromet.
Grade and Standard
Chinese National Standard GB50073-2001 (equivalent to International Standard ISO14644-1)
ISO Grade(N) Great than or equal to maximum acceptable concentration( particle/cubic meter) of suspended particles with the particle size listed in the table。



0.1um
0.2um
0.3um
0.5um
1um
5um
1
10
2








2
100
24
10
4




3
1000
237
102
35
8


4
10000
2370
1020
352
83


5
100000
23700
10200
3520
832
29
6
1000000
237000
102000
35200
8320
293
7






352000
83200
2930
8






3520000
832000
29300
9






35200000
8320000
293000
The green area is the scope where the EDR series products can be covered。
Product Display